How to choose an eSigning solution for NonProfits
Non-profit organizations are unique, they are not like every other business. We could argue that in a few ways there is a resemblance. For instance, everyday challenges like increasing productivity, wearing too many hats, having too much to do in very little time can be like those of another business. However, when we dive deep into the organization, the challenges they face in their unique context can take a different form, even more so when we talk about adopting new technologies for processes like eSignature. 
Challenges like privacy and security of information can be especially delicate for non-profits. They not only have to comply with their own standards and those of their clients, like a private organization; they also have to ensure the general public, some government institutions and any external investor of the policies that safeguard this type of data. The same structure makes adopting technology another challenge as their expenditure is likely overseen by several internal and external agents, not to mention, they often have to report on that expenditure to the general public. 
These are only a few examples of the unique challenges nonprofits face when dealing with new technologies. On the bright side, their team members are often resilient and extremely dedicated professionals ready to face this head on. The next steps will help nonprofit professionals take a stroll through the process of choosing an eSignature provider, which can be a more daunting task than it sounds like. 
eSigning solutions: why are there so many?
In the tech space it is common to find many players in one category, they all solve the same need but do it in different ways. This is often just the beginning, taking a deeper look each of the solutions in a space have different:
Features (and sometimes unique)

Niche based products or benefits

Pricing models and offers

Support policies, times and channels

Privacy policies

Process to handle information 

And more
These factors do not affect the basic solution they offer, signing a document online. However, they directly affect an organization's ability to grow with a solution, adopt it, use it and make it a part of their processes in the easiest way possible. If all these needs are not met, the solution chosen will work in the short term and might even become more of a cost than an investment. 
Choosing any provider should be seen as a long term investment. Ultimately the goal is to choose it once and not have to worry about it again for a while. When your organization grows, you don't want to have to migrate. Ideally your solution will adapt to your growing needs and in the long term it will help you make and save more money than it costs. 
This is why it is so important to choose wisely. As an organization you decide what your needs are and you get to choose the solution that is best suited for that. But, how do you know which e-signature platform is right for your non-profit organization? Here are some steps to help you understand your unique needs and assess an e-signature platform with the goals of being scalable, cost-efficient, and increasing productivity.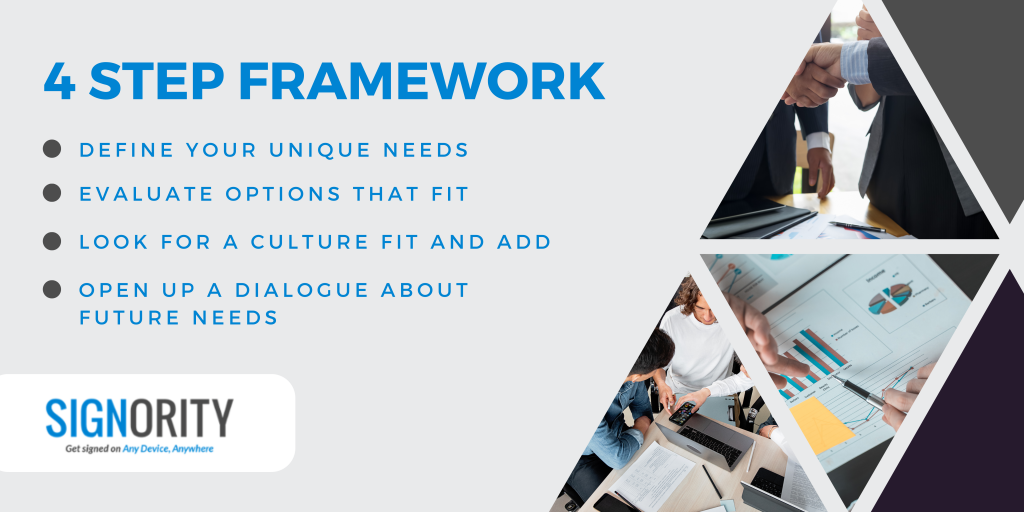 We have talked about needs and how they go beyond signing a document on a phone or tablet. So the first step is to define what are your needs beyond eSinging. 
Step 1: Define your needs
It's essential to identify your specific e-signature needs before you start evaluating e-signature platforms.
Document related questions:
What type of documents do you need to sign electronically? Are they often the same type of documents like NDA's in which only the signer changes. Or are they often unique in content as well?

Do I send out documents for 1 person or more to sign?

Is there an order to sign documents?

Do I bulk send or bulk sign documents at some point?

What are the specific requirements for signatures, such as legal compliance or security?

When do I send documents to be signed, after sales are made, before a sale, during the service process?
What does my team need when they send or manage documents?

Do we need hierarchical permissions for different team members?

Are some documents not to be accessed by everyone?

Do we have team leaders who should be the ones to set default permissions?
Do we need automatic reminders for signers?

Do we have a signer order that needs to be followed?

Will my team be notified upon completion?

What stats can be important to measure and track in order to improve this singing process a d reduce signer delays?

Once you have a clear understanding of your needs, you can start evaluating e-signature platforms that meet those requirements.
What type of support do you think you will need?

Will you need onboarding and migration support? This could be needed if you already have another eSinging solution or process. 

Do you foresee any unique challenges in your process which might be unique to your organization?
Step 2: Evaluate options based on your needs
Once you find some solutions that offer the features you need it is time to dig deeper. A free trial might not be enough, if you have unique requirements ask for a demo or a quick call in which they will show you how to use the platform. 
As a non-profit organization, your needs may change over time. It's essential to choose an eSignature platform that can grow with you and your team. Look for a platform that offers scalable pricing, so you don't end up paying for more than you need. This is also something that can often be discussed when reaching out to a sales team.
Look for productivity-boosting features. The right e-signature platform should not only save time but also increase productivity. Look for features such as templates, automatic reminders, and mobile compatibility to streamline your workflow and reduce delays. Additionally, make sure the platform integrates with other software you use, such as document management systems or CRMs, to ensure smooth operations.
Assess cost-efficiency Every dollar saved counts in a non-profit organization. When evaluating e-signature platforms, consider the pricing model and the total cost of ownership, including any setup or maintenance costs. Look for a platform that offers transparent pricing and doesn't charge hidden fees.
It is important to include that during this stage having direct contact with the platforms you are evaluating can be a game changer. You will be evaluating their responsiveness, support times and channels, and ultimately, a free trial of their platform to see if it's easy to use and understand. This is also when specific and important questions need to be asked, so write down a list of questions like this:
Where is your data stored?

What makes your product unique?

What is the feature most used by other clients in the NFP realm?

Do you have any testimonials from other NFP that I could read?
A final pro tip: If you are not the user of the product, make sure you include someone from the team that will actively engage with the platform in the free trial. One of the biggest challenges you will face after choosing a solution is adoption inside your organization. You need your team to use this platform for this investment to be successful.
Step 3: Look for a culture fit
Finding the right company to provide services is often reduced to finding a product that works. We believe it is so much more than that. You will be adopting a product that will hopefully be part of your organization for years to come, a product everyone in your team will have contact with at some point. Even more important, a product that is meant to significantly help your productivity and get you closer to your business goals. 
While it is extremely important for a product to work, it is just as important to have the right culture fit with the company behind it. Do they live by your same values and believe in what is important to you? Are their goals aligned with your goals? Think of this process as finding a partner, you need to know you are compatible in more than one way. Have them meet with another team member, get more than one opinion and look at reviews in sites like G2 or Capterra. If they are open about reviews it is one the best indicators of their transparency and if they have good reviews, it tells you about other client's experiences. 
Step 4: Open up the discussion about scalability and extra features
Once you choose a provider, ideally, you want to stay with them. So once you know they solve your needs both product related and company related, talk about the future. What are they working on, new developments, features, integrations, etc.
This is an ongoing step, as you get used to the platform ask them about new needs that might arise. If they are open to hearing about them they could even end up developing them. Think of this partnership as that is what will give you the peace of mind you need while increasing productivity, saving money and more. 
This is an ongoing step, as you get used to the platform ask them about new needs that might arise. If they are open to hearing about them they could even end up developing them. Think of this partnership as that is what will give you the peace of mind you need while increasing productivity, saving money and more. 
Implementing e-signatures can be a game-changer for non-profit organizations, enabling them to save time, money, and resources, while increasing productivity. By understanding your unique needs and assessing e-signature platforms based on your unique needs, scalability, cost-efficiency, and productivity-boosting features, you can choose the right platform to streamline your workflow and make a bigger impact.