How to send 500 documents to be signed in one easy swoop: Bulk Send
In today's fast-paced digital world, efficiency and productivity are paramount for organizations, especially nonprofits. Time-consuming administrative tasks can often hinder progress and divert valuable resources away from the core mission. One such challenge that has plagued nonprofits for years is the laborious process of sending hundreds of documents, often the same in content, to many different recipients. Not to mention the process of signing those documents only after a recipient has already done so. However, the tides are turning with the advent of innovative eSignature platforms and their groundbreaking feature: BULK SEND.
Nonprofits frequently find themselves grappling with the monumental task of having numerous documents signed, ranging from donation receipts and funding agreements to volunteer waivers and partnership contracts. Traditionally, getting everyone to sign such documents required significant manpower, countless hours, and extensive administrative coordination. This tedious process often resulted in delays, errors, and increased costs, diverting focus from the organization's true objective. 
Recognizing this pain point, eSignature platforms like Signority, decided to adapt and evolve, seeking innovative solutions to streamline the signing process for nonprofits. Enter BULK SEND, the game-changing feature designed specifically to alleviate the burden of sending hundreds of documents with repetitive content for eSigning.
BULK SEND is a powerful feature that empowers nonprofits to send multiple documents swiftly and efficiently, all with just a single click. The process involves a few simple steps:
Step 1: Document Preparation
Using the intuitive interface of the eSignature platform, nonprofits can easily upload their documents into the BULK SEND module.
Step 2: Template Creation
Once the documents are uploaded, nonprofits can create a master template. This template serves as the foundation for all the documents in the bulk signing process. It contains common fields, such as the organization's name, address, and contact details, which are identical across all documents, it also contains all the tags that will be personalized for each recipient. 
Step 3: Automating Signatures
With the template in place and the tags included, it is time to get your recipient list imported. This can easily be done through a CSV file. By leveraging intelligent automation, the BULK SEND feature swiftly populates these fields across all the documents, eliminating the need for manual input.
Step 4: Preview and Verify
Before initiating the bulk signing process, you can preview the finalized template to ensure accuracy. This step allows organizations to review and make any necessary adjustments or corrections before proceeding.
Step 5: One-Click Bulk Send
Finally, with everything in order, you can initiate the BULK SEND process by simply clicking a button. Signority will then apply the pre-specified signatures and fields across all the documents, effectively sending each document only once. The process is quick, efficient, and frees up valuable time and resources for the nonprofit to focus on their core objectives.
You can track each of these documents and see when they have been signed individually, which allows organizations to use these documents at their leisure.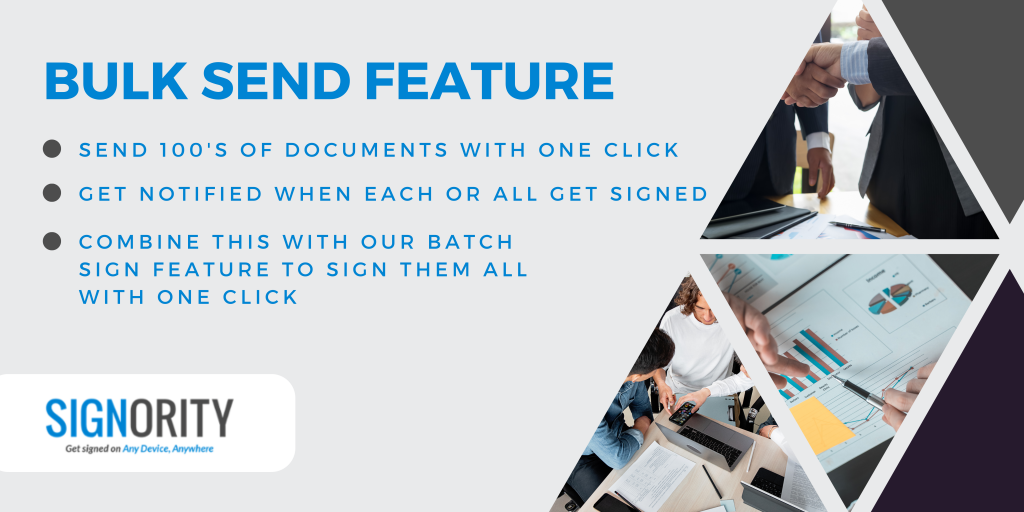 Benefits of BULK SEND for Nonprofits:
Time and Cost Savings: By automating the signing process, nonprofits can significantly reduce the time and effort required to send hundreds of documents to be signed. This time-saving feature translates into cost savings by allowing organizations to allocate resources more efficiently.

Enhanced Productivity: With BULK SEND, nonprofits can redirect their focus to high-impact activities, such as fundraising, community outreach, and program development. The streamlined signing process ensures that administrative tasks no longer hinder productivity.

Reduced Errors and Increased Accuracy: Manual data entry is prone to errors, potentially leading to legal and financial implications. BULK SEND eliminates the risk of mistakes by automatically populating fields across all documents from a single template, and sending them out to your recipients.