Notification Reminder and Deadlines Options for New Documents
When you're sending out a document, Signority can automate notification reminder emails to signers and send you email updates on the status of a document. You can always set your default automatic reminders and notifications from your Account Settings but there may be times when you need to set specific settings for individual documents.
Customizing Notification Reminder Settings for New Documents
Begin by creating a New Document using the +New button. The process is the same as creating electronic signature documents but with a few minor differences.
Upload a document you need signed
Add Recipients and specify their names and emails. Customize the Invitation Email and Document Settings.
In the Recipient Reminder Settings, you can start by setting your notification reminders schedule.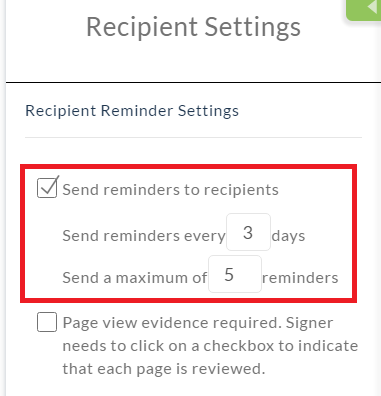 In the next step on the Editor page, go to the Settings next to the Document Title in the top left. Go to the Notifications tab.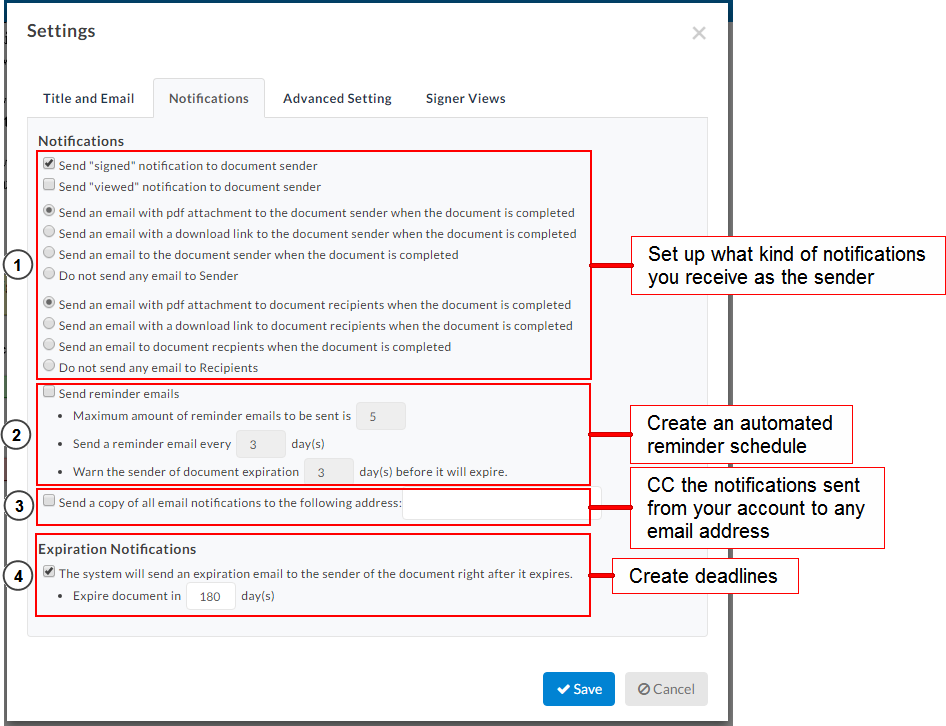 When you're done, click Save and add Tags to the document before sending it out for signature.
Overview of Options for Notification Reminders
In the first section, you can set what kind of notifications you wish to receive. Get notified for the following:
When a document is opened and viewed by a signer
When a document is signed by a signer
What's included in the finalized email
In the next section, set up your automatic reminder schedule. Specify the following:
How many reminder emails should be sent in total
How frequent those reminder emails should be sent
When to warn signers about the document deadline
In the third section, you can copy all notification reminder emails to a specified email address of your choice. This lets you record all the interactions with your signers.
And in the final section of the Notification Settings, create a document deadline and specify how long the document is valid for.
Signority sends reminder emails to recipients every few days until they've signed the document or they've been reminded the maximum amount of times. If the document is completed, they will also stop receiving emails for the document as well.
Most documents sent through Signority are signed within hours or a few days of being sent, but just in case there's a little delay, it's always safe to set some reminders & deadlines.
Further reading
Track and Monitor Document Status & Workflow
Change Signers and Resending Invitation Emails
Benefits of eSignature