"$8 for Eight Days" Celebrates Lunar New Year with $8 Pro plan for Chinese customers"
Ottawa, Canada – January, 26th 2017 – Signority, a next-generation digital signature software provider serving the small and medium-sized business (SME) community, today announced the launch of its China offering to allow businesses to easily sign contracts using a Digital Chop. Leveraging its patent for Digital Signature using an encrypted image, Signority is able to provide the Chinese market a unique offering tailored for Asia's largest market.
In celebration of the Chinese Lunar New Year and to mark the launch of its Chinese offering, Signority will ring in the Year of the Rooster with an $8 USD Pro plan. The promotion will run from Wed, Feb 1st through Wed, Feb. 8. Companies in the Chinese market, whose business depends on fast document signing to close deals, and streamlining operations, can now benefit from Signority's Patented Digital Chop solution.
"Signority's co-founders are both of Chinese decent, so, we are excited to honor our Chinese heritage as we celebrate the Year of the Rooster," said Jane He, COO and co-founder of Signority. "The number eight is a lucky number in Chinese culture, and we're hoping to share the luck with our '$8 for Eight Days' promotion."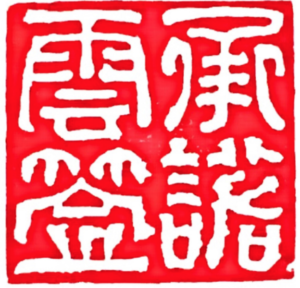 (Above) Signority's Digital Chop
"Many people in China possess a personal name seal. Artists, scholars, collectors and intellectuals may possess a full set of name seals, leisure seals, and studio seals. A well-made seal made from semi-precious stones can cost between 400 and 4000 yuan.

Seals are still used for official purposes in a number of contexts. When collecting parcels or registered post, the name seal serves as an identification, akin to a signature. In banks, traditionally the method of identification was also by a seal. Seals remain the customary form of identification on cheques in mainland China and Taiwan " taken from Wikipedia, Seal (East_Asia), January, 2017.
Signority is engaged in actively disrupting the electronic signature industry by providing secure digital signatures along with unique pricing transparency. The Signority platform cuts through time-consuming print, sign, scan document signing process that unnecessarily burden users and impact corporate revenue.
For more information about the Signority's Digital Signature platform and how Signority is enabling faster, simpler and less intrusive eSignatures for small businesses.
To sign up, visit Signority.com
About Signority
Signority Inc. is an Ottawa-based SaaS company that is dedicated to make it easy and secure for growing businesses to legally sign electronic documents. Their platform allows for the management of legal document workflows by offering a digital signature solution to easily access, verify, sign and certify documents from anywhere in the world, on any device.