For many, the price of a product or service is merely a number on a screen that they need to pay when they want to make a purchase. But the cost of this essential product or service is much more than that; it is made up of many different costs that, together, constitute to the final price you see.
In early 2016, we decided to begin focusing on meeting the digital and eSignature needs of SME's. Soon after, we adjusted our pricing to make our solution more affordable to all growing businesses.
We believe in transparency and the fact that you should be able to see what every dollar we receive from you is currently spent on, so you can understand our pricing and why it is what it is. After all, our solution allows organizations to conduct daily business transactions with people across cities and countries with signers in remote locations. This means that trust is a core component that must be present in the business relationship, just like with any other relationship. You should be able to trust the platform you use for document signing just as much as you trust the people you do business with.
So following in the footsteps of Buffer — a tech company out of San Francisco that is doing great things in the world of social media, we made a collective decision to push for transparency in our pricing, starting with this post.
As we were closing the book on 2016, we took a look back at what exactly every Dollar we received from subscriptions was spent on and broke it down for you below.


8% or $0.08

Signority's operations & IT costs include all that is required to keep us going daily: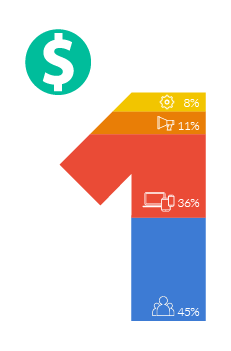 Office supply costs
Rent
Repair and maintenance cost
Utility expenses
Accounting and legal fees
Bank charges
Servers
Hardware

11% or $0.11

Required to increase our brand awareness and reach out to businesses like yours
Online: AdWords, Social Media, Email Marketing
Offline: Events and marketing collateral
Marketing automation tools
Partnerships

36% or $0.36

To ensure that we continue to build a solid product that makes our lives simpler and greener, we go through various stages — research, development, implementation and improvement. Security is at the heart of this and the implementation of Digital Signatures last year was a big part of it. We're now the easiest and most secure platform for document signing!

45% or $0.45
Adding and keeping talent is crucial to our growth, so, the largest part —or $0.45 — of every dollar goes to building and maintaining a happy and hardworking team. We invest in our culture, training programs and more to ensure our staff is capable, responsible and above all engaged in our vision to deliver an outstanding experience to our customers.
Over the next few months, we will be diving deeper into our accounts and further breaking down all of these categories mentioned above and continue to live up to our promise of transparency.

We would love to know what you think about our transparent pricing, write to us at hello@signority.com or leave us a comment below.