Name any industry and we can almost guarantee they would benefit from eSignature solutions. But for the sake of saving us time, we'll just cover 5 industries today and the benefits of using digital signature solutions for SMEs.
eSignatures increase efficiency, security, customer satisfaction, all while saving time, money and effort. Not to mention all the environmental benefits from ditching paper!
See how using eSignature solutions for SMEs can streamline your daily operations:
Medical marijuana
The very existence of medical marijuana businesses proves the traditional way of doing things is not always the best. It's only fitting for this new up and coming industry to use innovative signature signing, eSignatures! With eSignatures, you can register new clients and patients quickly, from any location and any device. You can also better manage patient information, by using a secure and centralized storage space. Remove barriers for new client sign ups, and watch your business light up (pun intended).
Take a look at this sample Patient Application Form. This online form allows a medical marijuana business to easily have patients fill out and sign forms securely and legally. The form has its own URL that you can use to embed into a website, just like it's done here. Using Signority eSignatures, patient data is housed and protected on secure servers. With the added security of public key infrastructure (PKI) signatures and advanced encryption, producers can ensure that prescriptions are legitimate and have not been altered. Audit trails come with each and every document and verify the signatories' IP addresses.
Insurance
By using electronic signatures, insurance firms and agents can sign more customers, faster. They can bypass traditional time delays (like scanning), drastically reduce the need for paperwork, send automated reminders to recipients, and reduce the number of uncompleted documents, accelerating the entire signing process. They strengthen collaboration between all parties, streamlining the entire process. This also improves the overall customer experience. Not only will they receive their contracts sooner, but they also have the flexibility of signing from any device, anywhere! With this in mind, nearly 9 out of 10 customers would pay more to ensure a superior customer experience. Unsurprisingly, digital signature solutions for SMEs can make completing contracts 80% faster. On top of everything, eSignatures are extremely secure and safe. They require ID authentication and record tamper-proof audit trails.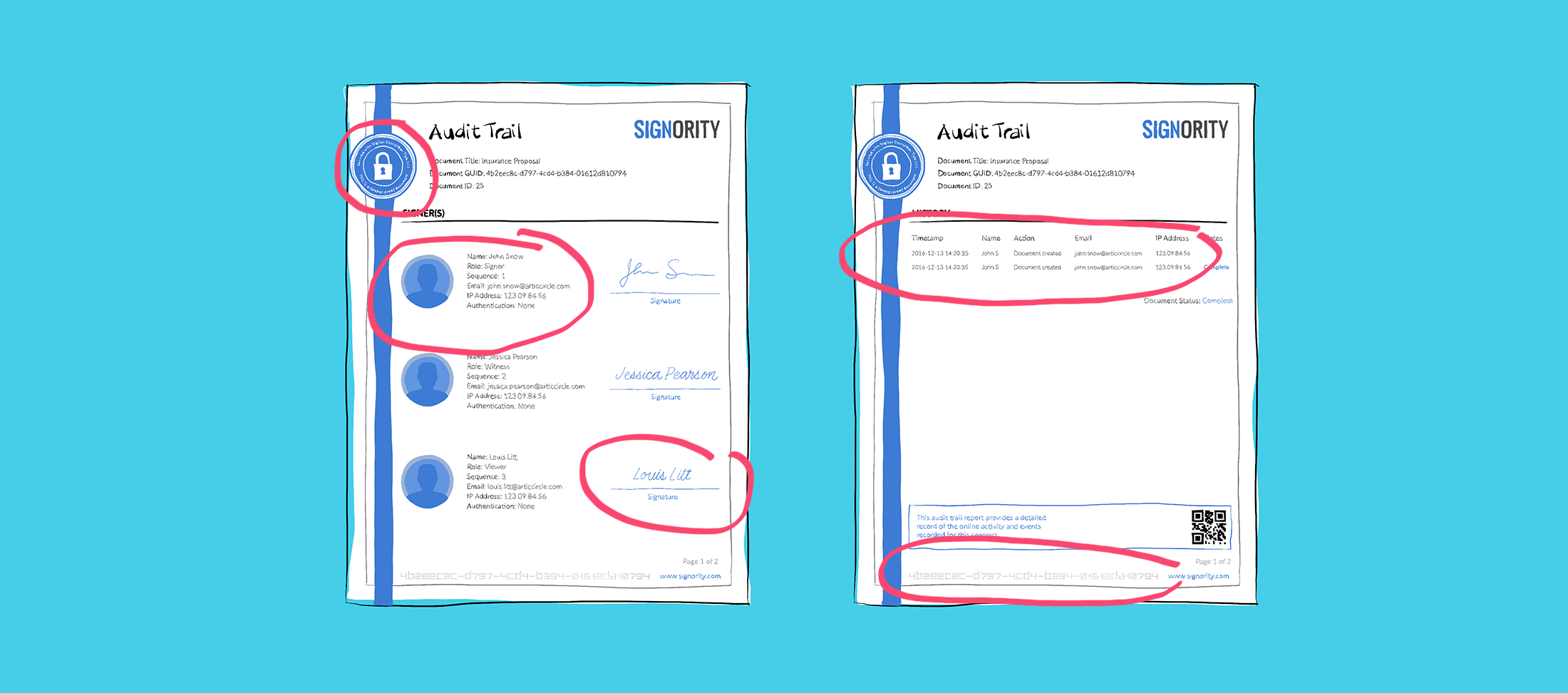 Freelancers
The life of the average freelancer probably involves excessive amounts of paperwork with multiple parties. Trying to juggle this with client expectations, administrative tasks and self-promotion can be extremely overwhelming. Work smarter, not harder with eSignatures: impress clients, save time on tedious document signing, cut administrative costs, and improve overall efficiency. With their in-depth audit trail and centralized storage, you will always be on the ball, with little risk of something getting lost in the shuffle. Integrating an eSignature tool with apps that you already use, like Salesforce, will make all your signing tasks even faster and easier. Bonus, it can also help you get paid faster!
Real estate
eSignatures can quickly change for sale signs to sold. You can finalize contracts faster by removing logistical barriers and sharing documents effortlessly, making document signing easier for clients. Track the status of your documents, send reminders to customers when necessary, and warn clients when important information is missing (like that last initial!). Since your documents can be stored in one location, you can use past documents as a reference for future transactions.
Law
Using electronic signatures can benefit law firms, their employees and clients. Employees will no longer have to waste their time filling out tedious paperwork, and clients will not have to visit the office in order to sign. Features like Template Overlay, and Anchor Text make it easy to prepare long documents to be sent out for signing. Furthermore, eSignatures are more enforceable, traceable, confidential, and, hence, secure- increasing customers trust.
Using digital signature solutions for SMEs is basically a no-brainer. No matter what industry, eSignatures improve overall business functions while cutting costs and enhancing customer experience. And connecting an eSignature app with apps that you already use makes things even more seamless for you and your fellow employees.

Basically, paper signatures are the new carrier pigeon.
Stay tuned for Part 2, where we'll discuss more industries and how they can also be enhanced by eSignatures. If you want to learn more, check out our page on how digital signature solutions work and how it benefits your business!
Looking to take your business paperless? Sign-up now and get a 14-day free trial to a Signority eSignature Plan!